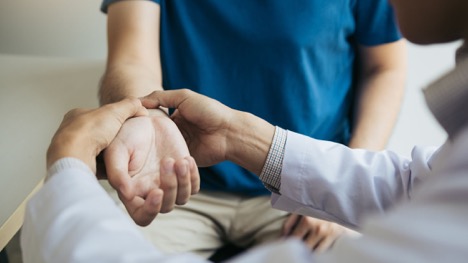 Wrist Injury Doctor Frisco
Our wrists are one of the most important complex joints in our body. We use our wrists for daily tasks such as brushing our teeth, working at a computer, or doing the dishes. When our ability to function is interrupted due to injury, it can throw everything out of balance.
If you have recently injured your wrist, we can help. Learn more about why we are the best wrist injury doctor Frisco has to offer!
Who is Performance Orthopaedics & Sports Medicine?
Performance OSM is the best when it comes to orthopaedic surgery and sports medicine. Our highly trained surgeons and physician assistants can treat many conditions. Whether your child sustained a fracture on the field or you are dealing with developing arthritis, our physicians are the top choice for a wrist injury doctor in Frisco. No matter your concern, we can treat your injury and get you back to a pain-free life.
Wrist Injury Doctor Frisco, Texas
As the premier wrist injury doctor Frisco offers, our team provides a variety of treatments for various hand and wrist injuries. Here are some of the most common injuries we see in our Frisco office.
Types of Hand and Wrist Injuries
Carpal Tunnel Syndrome – A result of repetitive wrist movements, such as typing, playing an instrument, or manual labor.
Strains – An injury of a muscle or tendon; commonly found for many reasons.
Fractures – When your hand or wrist bone has a small break, commonly found after sustaining a fall or hit.
Arthritis – Inflammation of the joints due to overuse, genetics, or a combination of both or other factors.
Dislocations – A displacement of a bone from its normal position; frequently caused by sports or accidental injuries.
Tendonitis – Inflammation of one or more tendons due to injury or existing medical conditions.
Kienbock's Wrist – An interruption of blood supply causes a fracture in the bone tissue.
Treatment Options
When it comes to wrist injuries, the most frequent courses for treatment are rest, steroid injections, rehabilitation training, or surgery. The type and severity of the injury usually dictate which path we recommend. However, at Performance OSM, we believe in treating not only the injury but the person. We create individualized treatment plans specifically for you while still yielding the best results.
Use Performance OSM as Your Go-to Wrist Injury Doctor Frisco
Our specialists are currently accepting new patients. Request an appointment with one of our doctors or physician assistants today! We look forward to seeing you and helping you take the next step towards a pain-free life.